Bedtime Story: The Enchanted Bookshop – Night 12
Bedtime Story: The Enchanted Bookshop – Night 12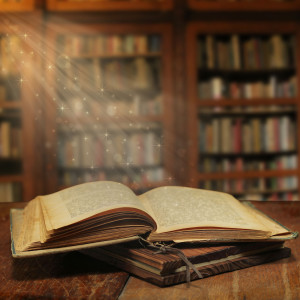 Once Upon a Time…
"What did you do with it?" Sven asked.
"I took it up to the register, but your grandfather wouldn't let me pay. He said he'd never seen anyone find their book so fast. He figured my husband and I must have needed it very badly."
Mrs. Harrison hugged the book to her chest. "I took it to the hospital with me and read it to my husband. He loved it, and it gave us both something to lift our spirits, if only for a little while." She sighed as she laid the book on the table. "I read the whole series aloud, and my husband began to refer to them as our 'book dates.' We carried on like that until he died. He even got one of the nurse's to buy a bouquet of flowers that he gave me before one of our 'dates.' He said it was like when we were courting." Her voice caught.
Sven leaned toward her. "Thank you for telling me this and showing me your book. I was in the shop a couple of times when it happened, but recently I've been thinking I must have imagined it."
Mrs. Harrison brought her head up sharply. "You've inherited a collection of magic books, too, haven't you?"
Bedtime Story: The Enchanted Bookshop – Night 13
Copyright 2014 by Barbara Hinske