Bedtime Story: The Enchanted Bookshop – Night 14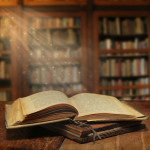 Once Upon a Time…
Sven settled into the modest room in Mrs. Harrison's home that was now his. The light from the north-facing window was good and the hand-stitched quilt on the bed was inviting and comforting. The other pieces of furniture in the room were a small chest of drawers that doubled as a nightstand, a student desk, and a straight-backed chair.
Sven set his laptop on the desk and reached into his suitcase for the final item—the slim packet of emails from her. He'd met Kiara through his studies at the University of Stockholm. She worked in the library of Uppsala University and he'd corresponded with her about materials in Uppsala's collection. They'd struck up a professional relationship that deepened over the months into respect, affection, and—for him—love. He opened her final email where she'd accepted his invitation to meet face-to-face, for the first time. She would be waiting for him at the library entrance the following Tuesday at noon.
Sven travelled to Uppsala and waited at the entrance for over an hour, his excitement turning to sour disappointment as the minutes ticked by. He'd gone inside to inquire about her, only to be told she'd left for lunch shortly before noon. As far as he knew, she'd never returned to the University.
Bedtime Story: The Enchanted Bookshop – Night 15
Copyright 2014 by Barbara Hinske