Bedtime Story: The Enchanted Bookshop – Night 19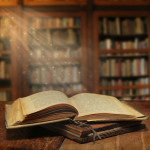 Once Upon a Time…
Sven re-opened The Enchanted Bookshop in a corner location just three blocks from the original store and directly across from the site of the now-defunct big box store that put his grandfather out of business. When he signed the lease, Sven was sure his grandfather would have approved.
He'd resisted Mrs. Harrison's suggestions for a splashy grand opening, but he appreciated that she sent him to the store with freshly baked cookies every day. Business was picking up, and some days the only thing he had to eat was one of her cookies, snatched between customers.
The rare book collection turned out to be extremely valuable and a few early sales produced enough revenue to pay his rent for a year. At the end of his third week in business, a young girl entered his shop and he knew she would find a magic book.
Bedtime Story: The Enchanted Bookshop – Night 20
Copyright 2014 by Barbara Hinske