Bedtime Story: The Enchanted Bookshop – Night 20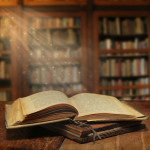 Once Upon a Time…
Anna Morris was a slight, shy ten-year-old girl with crooked teeth and thick glasses. She ducked into the shop one day after school. Sven was surprised that she was alone—it was unusual to find children this age unaccompanied by an adult.
"How may I help you?" Sven asked and the girl jumped, startled by his voice.
She turned in his direction. "I'm just waiting for the bus to come and pick up the others," she said, pointing out the window to the passel of children jostling and joking at the bus stop.
"Aren't you supposed to get on that bus?" he asked.
"I'd rather walk home," she said, and they both knew she was lying.
Sven shook his head in understanding; he'd been small for his age and had been a favorite target of the school bullies. "You're welcome here anytime. There's homemade cookies on the counter, if you're hungry," he said. "Why don't you poke around in our books? I think you might find something that will help you."
"I don't have any money," the girl replied softly.
"I'll tell you what—pick out a book and it's on the house. We give away a book every week to one lucky customer. You're the lucky customer this week."
The girl smiled and set off on her search.
"Just let me look at your book before you leave the store," Sven called.
Fifteen minutes later, the girl approached the register, book in hand. "Anne of Green Gables," he said. "Good choice. She had a rough start in life, but used her wit and her will to survive and triumph." He opened the front cover. "Anna Morris?" he asked, and the girl nodded.
A chill traveled along Sven's spine. He ushered Anna Morris to the door and almost missed the letter, bearing a Swedish postmark, that had fallen out of the mail slot onto the floor.
Bedtime Story: The Enchanted Bookshop – Night 21
Copyright 2014 by Barbara Hinske