Black-and-White Brownies
Black-and-White Brownies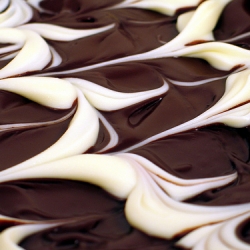 Bottom
Brownie Layer
¼ lb. Butter
1 C. Sugar
2 Eggs
2 squares melted Baking Chocolate
½ C. Flour
½ tsp. Vanilla
Mix together. Beat with electric mixer until smooth and shiny. Pour into greased 9 x 13 inch pan and bake at 350 degrees for 10-15 minutes.
Middle White
Frosting Layer
½ Stick Butter, browned slightly
2 C. Powdered Sugar
2 Tbs. Cream (milk works if you don't have cream)
½ tsp. vanilla
Mix together and spread on warm cake, above.
Top Chocolate Frosting Layer
1 square melted Baking Chocolate
¾ Tbs. butter
Combine and when cool enough to handle, spread on warm vanilla frosting with your finger. This layer will be very thin.