Downton Abbey — is Civility the Real Draw?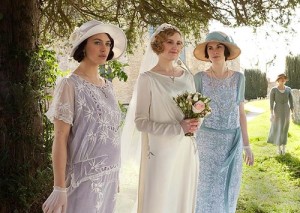 Ahhh – Downton Abbey is back and my weeks crescendo from Sunday night to Sunday night. Don't we all love their world? Doesn't it seem so much simpler than our own daily rounds? But to them, I'm sure life seemed chaotic and unstable. In season 3 we've got imminent financial ruin, a husband who may go to jail, a husband in jail, a lovely daughter of marriageable age who desperately wants to find someone, and aging parents for a "sandwich generation" to deal with. Sounds familiar, doesn't it? What is it, then, that makes Downton so compelling?
Highclere Castle, is, of course, glorious beyond words. The clothes, the handsome cast, and the fine acting are hooks, to be sure. But I think we are responding to the extreme civility with which they – whether above or below stairs – respond to the inevitable crises in their lives. The way that Mr. Carson and Mrs. Hughes call each other Mr. and Mrs. is deeply formal and respectful while at the same time is touching and intimate.
Lady Mary's conversations with Matthew about his initial refusal to accept that Downton-saving inheritance were calm, honest, clear, and dignified. I wanted to sit him down and really light into him, didn't you? Casting the real me in that part would have yielded a much different discourse on the subject – and I don't think it would have been for the better.
We've all been out and about – running errands or getting a bite to eat – and noticed a couple arguing in too-loud fashion, someone upbraiding a retail clerk, or hassling an overworked waiter – and it makes us feel bad, doesn't it? You want to turn your head – move to the next register – pay your check and get out of there. The lack of civility diminishes us all.
On the other hand, it's uplifting to witness small, spontaneous acts of graciousness; humorous acts of good nature. Random Acts of Kindness – Don't Sweat the Small Stuff – anyone?
I was in Williams Sonoma recently, looking over items on the clearance table (I love clearance, don't you?). Two other women were also digging through the tall stacks on the tables and they both wanted the same white dessert plates. Oh boy, I thought.
Both women wanted ten plates. They asked a clerk if there were more in the back. There were not. So one of the women handed her smaller stack of three plates to the other woman who was holding six and she proceeded to check out with her nine plates. The other woman and I continued sorting through the merchandise on clearance. She found a tenth plate. She handed it to me and told me to hang on to it as she rushed out into the mall and chased down the woman who returned and was delighted to buy that tenth plate. She thanked us both profusely (I did nothing). The woman who chased her down was so pleased that she was able to do this nice, albeit small, favor for a complete stranger. I felt happy and uplifted by watching it all happen. And all because someone was civil in the first instance (handing over her three plates) and followed up with kindness (chasing her down to tell her about the tenth plate). This makes me feel good remembering and writing about it!
What small courtesies and acts of civility have you observed that have enriched your day? I'd love it if you'd share your comments. I know it will be encouraging to read your stories!