Fruit Scones Recipe 2/26
These are easy and delicious scones. Perfect for a cozy tea time on a blustery afternoon!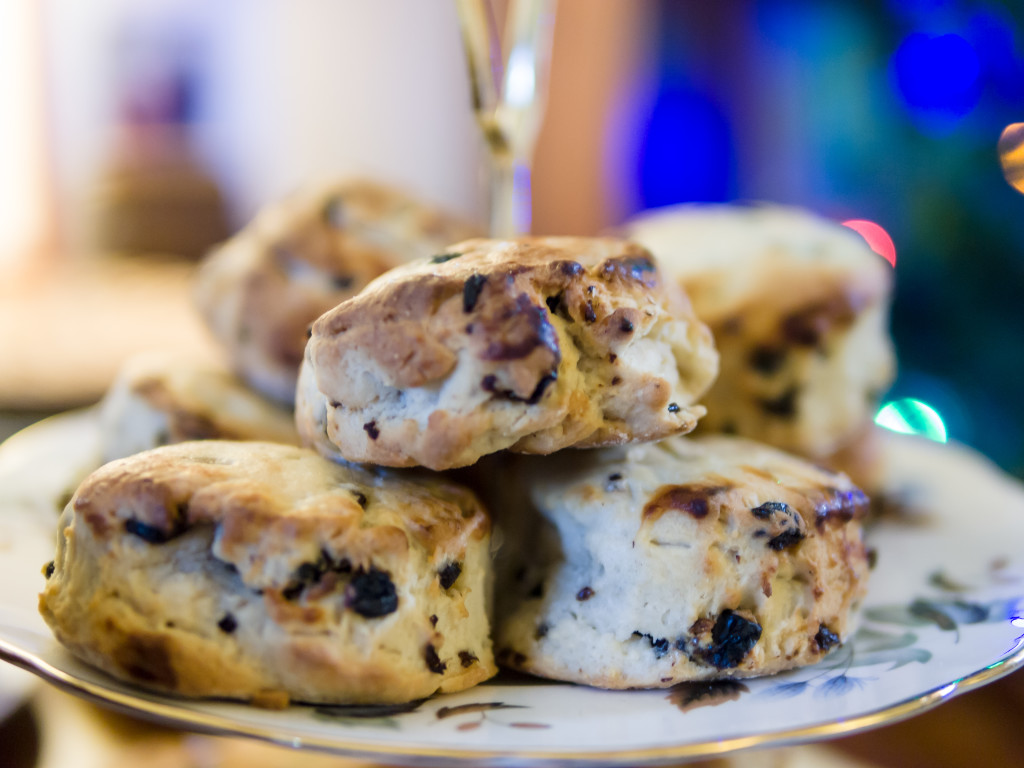 Fruit Scones
Ingredients
1/2 stick butter
2 cups all-purpose flour
2 tsp baking powder
1/2 tsp salt
1 oz fine sugar
1/4 cup dates (or raisins)
1/4 pint milk
1 egg beaten with little milk
Directions:
* Heat the oven to 400F
* Generously grease a baking sheet with butter then sprinkle with flour.
* Sift the flour into a bowl, add the cubed butter, the baking powder and salt. Quickly rub the butter into the flour your fingertips until the mixture resembles fine breadcrumbs.
* Add the sugar and the dried fruits, mix well.
* Make a well in the center and using a dinner knife, stir in enough milk to make a soft, pliable dough. If the dough is too sticky sprinkle with a little flour.
* Turn the mixture on to a floured board and knead very lightly until just smooth then lightly roll out to 3/4″ thick.
* Cut rounds with a 2″ cutter or cut into triangles with a sharp knife.
* Place on the baking tray and brush with the beaten egg and milk mixture. Bake near the top of the hot oven for 15 minutes or until golden brown and well risen.
* Cool on a wire rack before eating.
Serve with butter, or lashings of jam and cream. Delicious.
* For Plain Scones
Remove the dried fruit from the recipe.
* For Cheese Scones
Omit the dried fruit and add 1/2 cup grated cheese and 1/2 tsp dry mustard to the mixture after rubbing in the butter and flour and continue with the basic recipe. Sprinkle the scones with 1/2 cup more grated cheese before baking the scones in the oven.