Home Fires Season 1 Episode 1 Review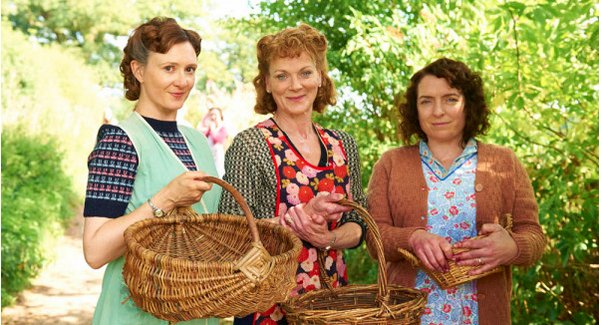 Home Fires Season 1 Episode 1
British television sensation Home Fires has crossed the pond and is now airing on Masterpiece Theater in the US. Based upon the novel Jambusters, Home Fires follows the lives of a group of women in rural England as World War II invades their homeland and changes their lives forever.
I'm lucky enough to be the reviewer for both Downton Abbey and now Home Fires for UK media icon Cultbox. Here's my review of Episode 1 of Home Fires.
The six-part series begins in late August 1939 – days before England enters the war. Trucks loaded with soldiers careen around the narrow roads of the rural Cheshire community and fighter planes break the silence, drawing a farmer's son to watch them fly past. We just know that he is going to enlist and become one of the thousands of brave young men who never return from their mission. Our hearts break for his parents.
Inspired by Julie Summers' non-fiction book Jambusters, the brilliant writing is beautifully brought to the screen by a superb ensemble cast, including Francesca Annis as Joyce Cameron, the authoritative aristocrat accustomed to running everything and everybody in her wake.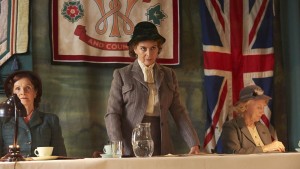 Frances also has a backbone. In a deliciously dignified scene where harsh words are wrapped in the most proper verbiage, we see Joyce – president of the local chapter of the venerable Women's Institute – attempt to ignore the deciding vote of her young serving girl, Claire, and enforce her desire to disband the WI for the duration of the war.
Frances won't stand for it and demands a vote of no confidence in the president. Rather than subject herself to this indignity, Joyce resigns, storming out of the meeting with her followers in her wake. To further cement her status as a sore loser, Joyce fires Claire.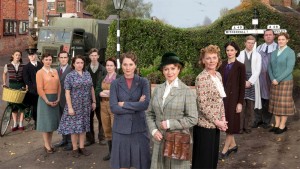 Although Joyce appears to have won the day since there aren't enough remaining members to continue the WI, Frances won't be defeated. On an after-dinner stroll with her husband, she seizes upon the idea of supporting the home front by canning blackberry jam. Great Paxford is surrounded by miles of blackberry hedges.
"Every pound of fruit we save is jam that won't have to be brought in through dangerous waters….Have faith ladies. Hold fast," Frances tells a group of recruits. The reinvigorated WI cans and sells every single bottle of jam.
Joyce sticks her nose into the initial meeting of the new WI and observes, "This will fail, Mrs. Collingsborne. Lowering standards never works." To which Mrs. Collingsborne replies, "The only thing that has failed is your determined attempt to keep this Institute as the preserve of your favorite snobs and sycophants but then that, like so much else, is about to change."
Not to be out done, Joyce slings, "When I want a homily on the joys of transformation, I'll listen to the organ grinder in church on Sunday, not his monkey in the village hall the middle of the week."
Along the way, we're introduced to a cast of characters that will find a place in our hearts and remain on our minds as we return to our daily lives. Couple this with a remarkable soundtrack that conveys the simplicity and hopefulness of this community, and ITV has delivered a show that will have us glued to our televisions. And longing to join the WI!