I Love Lipstick!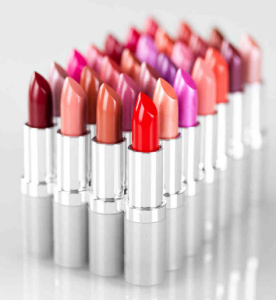 The weather in Phoenix is starting to get warm (Phoenix definition – under 105 – hot doesn't happen until 106). Remembering an unhappy incident with a lipstick left in my car's console a bit too far into the summer, I fished my handy tube out of my car yesterday and it got me thinking about how wonderful lipstick is. That tiny, relatively inexpensive tube holds the promise of radiance, allure and beauty. At least that's what any hurried, fatigued modern woman hopes it will do for her. It sure beats biting your lips to pique color – like the heroines in Jane Austin's books have to do.
I know that lipstick has been around for more than 70 years and decided to do some research. Interesting facts:
• Hazel Bishop formulated the first smear proof lipstick.
• Ms. Bishop was a biochemist with a petroleum science background – and this was in the 1940's – so she was way ahead of her time!
• She cooked up sample batches of lipstick in a double boiler in the tiny kitchen of her Central Park West apartment.
• She convinced a neighborhood druggist to demonstrate its durability by painting his hand with stripes of her lipstick; it stayed put.
• She entered into a partnership with adman Raymond Spector to launch a national campaign and paid him in shared of her stock. He eventually forced took over the company.
• Ms. Bishop – not to be undone – reinvented herself as a financial analyst (no doubt after carefully applying her lipstick).
• Ms. Bishop's niece recalls that her aunt always wore her father's gold and diamond tie tack.
• In the 1940's, Elizabeth Arden's Montezuma Red was the rage – it matched the red trim on the uniforms of women Marines.
• In the 1950's, Max Factor's Strawberry Meringue replaced the reds of the 50's.
• In the 1990's, Cindy Crawford made Revlon's Raisin Rage the must-have shade.
Hazel Bishop was an admirable, modern women, in an era that was not particularly nurturing to capable, achieving women. She could be any of us, today. She had that get-up-and-get-it-done spirit that defines Maggie Martin in my Rosemont series. I'll think of Ms. Bishop and feel uplifted when I put on my lipstick before heading out the door.