Sandra Bullock to Join Downton Abbey cast for Season 5?
Sandra Bullock to Join Downton Abbey cast for Season 5???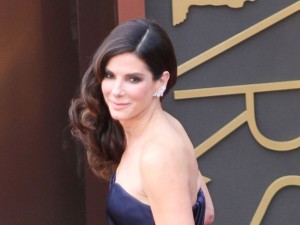 Yes, please!! Rumors are flying around the Internet. She reportedly loves the show, is looking for a home near its filming location, and pumped Gravity co-star George Clooney (who worked with Hugh Bonneville—DA's Robert Crawley—on Monuments Men) for DA gossip.
I love Sandra Bullock and hope she brings a little of that ol' Leigh Anne Touhy (The Blind Side) to our beloved DA. Truthfully, I've been disappointed in how Americans are depicted on DA.
I gauge every character by this litmus test: If I were to time travel back to DA (and I do this a lot in my mind), would I want to have lunch with that character? The Dowager Countess, Mrs. Crawley, Mr. Carson, Mrs. Hughes, and Anna? Definitely yes. And Thomas (whom I would give a stern talking-to). Cora's mother—Shirley MacLaine's character—not so much. I find her blasé and sour—not the least bit warm or inviting. The Dowager Countess is painted with the same opinionated brush, but the viewer is certain that a wise and deeply caring woman lives inside those stiff corsets.
As for Cora, her constant expression of benign amusement wears thin. (Although she deserves kudos for being distant when those idiot men wouldn't allow Sybil to have a C-section and for firing that horrid nanny on the spot.) Cora's brother, played by Paul Giamatti, is intriguing, and I'm looking forward to seeing more of him next season.
Which brings me to my suggestion for DA's brilliant creator Mr. Julian Fellowes, if he is listening. Why not cast Sandra Bullock and Jon Hamm (reportedly another huge fan) as handsome, wealthy Americans who buy Haxby Park? Remember Haxby? The drool-worthy house next door that Mary and the dreadful Sir Richard bought in Season 2? Then we could have two incredible homes to lust after every week. And they could bring the best of American friendliness and ingenuity with them. Maybe even come up with ideas to help save Downton. Now that's a solid idea!
What do you think? Who would you like to see join the cast? In what roles? Maybe we could start a movement!