Filled Swedish Sponge Cake
Filled Swedish Sponge Cake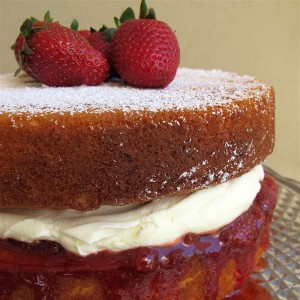 This recipe is from Maggie's mother. When she was small, she would help her mother with this traditional recipe. Its one saving grace is that it's made three days ahead of time!
4 Eggs, beaten well
2 C. Sugar
1 tsp. Vanilla
¼ C. Butter or Margarine, melted in 7/8 C. hot Milk
2 C. Flour
2 tsp. Baking Powder
Add sugar and vanilla to well-beaten eggs, and beat well.
Sift flour and baking powder four times and add to egg and sugar mixture.
Slowly add hot milk to mixture.
Lightly grease and flour a 9 x 13 pan.
Pour in cake mixture and bake in 375 degree pre-heated oven for 30 minutes, then turn the oven down to 350 degrees and bake until done (test with a toothpick) – usually another 30 minutes.
Let cool and remove from pan.
Wash the pan and line with wax paper in both directions so that when the cake is in the pan the paper can be brought up on all sides to completely cover the cake.
Split the cake lengthwise and put bottom half back in the lined pan. It's helpful to have another set of hands for this step.
While cake is baking and cooling, make the custard filling.
Custard Filling
1 C. Sugar
2 Eggs
3 Tbs. Cornstarch
1 ½ C. Milk
Cook until thick, stirring constantly (about 5 minutes).
Cool and add 1 Tbs. Rum or Sherry (or their flavorings).
Cream well:
½ lb. Margarine
10 Tbs. Confectioners 10-x Sugar (this is the kind they sell in the supermarket)
Whip margarine and sugar mixture and add 1 Tbs. at a time to custard.
Pour on top of bottom half of cake.
Place top half of cake back on the cake and wrap the wax paper to cover it. Refrigerate three days.
Sift powdered sugar over the top to serve.